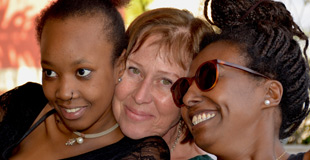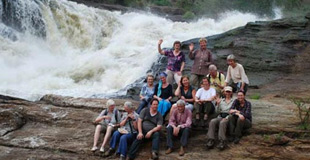 The different stages in my life
1961-1980
Munich
1980-1985
Eßlingen / Stuttgart
1985-1990
Ruhr Area: Herdecke and Wattenscheid
1990-2001
Kenya, East Africa
during that time I spent one year in East Sussex, England and six months in Tanzania
2001-2008
Munich
2008-2010
Prien at the Chiemsee
2016 until today
Munich
Travels
I travelled to England several times, as well as to South Africa, to California, to the East Coast of the USA and to south-East Asia. I went to India, to Egypt, to Brasilia and Japan only once.
University studies and training


1980 Studying for elementary school teacher at the teacher training college in Esslingen for three trimesters.

1982 Studying at the Anthroposophical Seminary in Stuttgart.

1985 Receiving the Certificate for Waldorf School pedagogy from the Teacher Training Seminary for Waldorf School teachers in Stuttgart.

1988 Two year training period for pupils with special needs in Waldorf Schools. At the same time I taught as a class teacher at the Waldorf School in Wanne-Eickel.

1994 A three month Anthroposophical training course in Forest Row, England.

1996 A three month course on Threefold Social Order in Forest Row, England.

2001 Training for three months as an EDV expert at the Frauen-Computer-Schule (Computer school for women) in Munich.

2002 Training for a year as an IT-manager at Mediadesign Teleakademie in Munich.
Professional activities


1985 Co-worker for one year at the adolescent psychiatry in the hospital Gemeinschaftskrankenhaus Herdecke.

1986 Class teacher from form (grade) one to four at the Widar School in Wattenscheid.

1990 For a period of ten years founding, teaching and being a mentor of the Rudolf Steiner School Nairobi, of the Waldorf kindergarten Kileleshwa and of the Nairobi Waldorf School in Kenya. Also starting and developing of the organic school farm at the Nairobi Waldorf School Kenya.

1991 Founding and developing of the business Fair Trade Zebaki  ltd, and the trade with arts and crafts articles. Developing a workshop for making dolls and animals of fabric.

1996 The purchase of a lot and the gradual development of Oseki Farm as a place of encounter.

1998 Working as a mentor for six months at the Hekima Waldorf School in Dar-es-Salaam, Tanzania. Founding the association "EATAE" – East African Art and Education. Organizing adult education courses in Kenya.

1999 Development of a project at Oseki Farm where adolescents with special needs could be taken care of. Offering and carrying through journeys in Kenya for groups, with the special emphasis on ecological and social aspects.

2004/2007 Part-time teacher for needle work and music at the Rudolf Steiner School Ismaning. Developing the pupils` business Fair Trade nyendo in Ismaning. Founding the association Pupils as Entrepreneurs.

2006 Publishing my book Ein leiser Ruf aus Afrika (a faint call from Africa) and founding of the publishing company nyendo.

2008 Moving to Prien at the Chiemsee and the founding of the travel agency nyendo travel. Developing of the concept nyendo learning hand in hand.

Since then further development of the concept nyendo learning with the hope to interest other German schools to participate in this project.