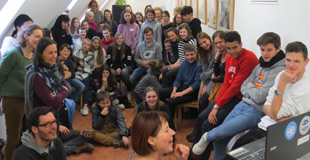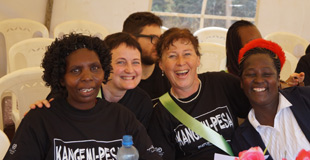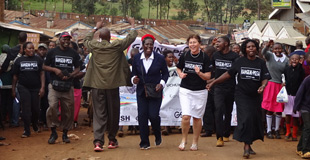 I had been teaching in Germany before I went to Kenya as a pioneer Waldorf  School teacher.
I taught there for ten years. During that time I became competent in social entrepreneurship.


The experiences I made in these two spheres lead to the development of the concept of social entrepreneurship for young people which is called nyendo. learning hand in hand.


My heartfelt wish is to encourage and to empower young people to engage themselves with enthusiasm to change the world for the better.


I discovered that the authentic encounter between the different cultures is the heart beat of this vision.
Therefore I offer journeys where the main focus lies on the encounter with another culture.
Irmgard Wutte
Born in 1961
Two children
Qualified Waldorf School teacher



Co-founder of the Rudolf Steiner School in Nairobi, as well as the Waldorf kindergarten Kileleshwa and the Nairobi Waldorf School in Kenya, East Africa


I am very happy to be a mother


Founder of the learning concept of social entrepreneurship called nyendo.learning hand in hand and the Fair trade business run by pupils of the Rudolf Steiner School Ismaning


Owner of nyendo.tours, organizer and leader of the trips


Author of the book Ein leiser Ruf aus Afrika (A faint call from Africa), nominated for the taz Panter prize in 2007
I can look back to various experiences in the fields of


pedagogy
social entrepreneurship
working with young people with special needs
adult education


I received additional training in


pedagogy for children with special needs
helping people to further their social and personal development
business management and
IT-manager


Trust Yourself:
jedes Herz schlägt höher beim Klang dieser stählernen Saite! Nimm den Platz ein, an den die göttliche Vorsehung dich gestellt hat, nimm die Gesellschaft deiner Zeitgenossen, die Verknüpfung der Geschehnisse an.

Bedeutende Menschen haben dies immer getan und sich kindlich dem Geist ihres Zeitalters anvertraut, denn sie erkannten, dass das absolut Zuverlässige seinen Sitz in ihrem Herzen hat, durch ihre Hände wirkt und ihr ganzes Wesen durchdringt.

Und wir, die wir jetzt leben, müssen mutig dasselbe, uns transzendierende Schicksal auf uns nehmen, denn wir sind weder Kinder noch Kranke in einem sicheren Winkel, noch drücken wir uns feige vor einer Revolution. Vielmehr sind wir Führer, Retter und Wohltäter, dem Allmächtigen gehorchend, immer im Vormarsch gegen Chaos und Finsternis.

Ralph Waldo Emerson